The 15 Best Websites to Learn German Through Immersion in 2023
How much time do you spend procrastinating online?
Wouldn't all that precious time be better spent focusing on some German study? Jawohl! (Yes, Sir!)
As distracting as the internet may be, it's also a unique tool for learning German.
In this blog post, I'll show you the best websites to learn German through immersion online—arguably the fastest and most effective way to do it!
Contents
Download: This blog post is available as a convenient and portable PDF that you can take anywhere. Click here to get a copy. (Download)
Price: Free 
Deutsche Welle is a German news website aimed at international readers, and it has a comprehensive German language learning program for all skill levels. 
The video lessons are sorted by CEFR level and cover a huge variety of topics like conversational phrases, grocery shopping, apartment repairs and medical terms.
Older interactive course material has been preserved through PDFs and YouTube. Plus, there is still a great deal of video and learning content available on the site.
The main Deutsche Welle news website also offers lots of podcasts and audio clips (including slow-spoken news stories) to immerse you in the language and improve your German comprehension.
2. FluentU: Best for Learning with Authentic Content
Price: $$ (free trial available)
FluentU is one of the best websites and apps for learning German the way native speakers really use it. FluentU takes real-world videos—like music videos, movie trailers, news and inspiring talks—and turns them into personalized language learning lessons.
Watch authentic media to simultaneously immerse yourself in the German language and build an understanding of the German culture.
By using real-life videos, the content is kept fresh and current. Topics cover a lot of ground as you can see here:
Vocabulary and phrases are learned with the help of interactive subtitles and full transcripts.
Hovering over or tapping on any word in the subtitles will automatically pause the video and instantly display its meaning. Interesting words you don't know yet can be added to a to-learn list for later.
For every lesson, a list of vocabulary is provided for easy reference and bolstered with plenty of examples of how each word is used in a sentence.
Your existing knowledge is tested with the help of adaptive quizzes in which words are learned in context.
To keep things fresh, FluentU keeps track of the words you're learning and recommends further lessons and videos based on what you've already studied.
This way, you have a truly personalized learning experience.
Start using the FluentU website on your computer or tablet or, better yet, download the FluentU app from the iTunes or Google Play store. Click here to take advantage of our current sale! (Expires at the end of this month.)
Price: Free ($$ for live courses with teachers)
DeutschAkademie is a free online German course that provides hundreds of hours of interactive lessons for learners of every level.
The course offers comprehensive grammar training organized by topic. You can learn and review different areas of grammar based on your own skill level and needs. These lessons contain information from 20 well-known German textbooks.
DeutschAkademie also has audio lessons with transcripts, along with vocabulary exercises and quizzes.
The learning content on DeutschAkademie is free, though if you want a bit more guidance and interaction you can pay for a live course taught by teachers to small groups.
4. Netflix: Best for Learning While Relaxing 
Price: $
No doubt you'll already have a Netflix account. 
There's a wide range of popular movies and TV shows from Germany on the website, covering comedies, dramas and documentaries—perfect for entertaining German immersion online.
Once you're immersed in a show or movie, your ears will be exposed to all kinds of German. Depending on what you're watching, you could be listening to highbrow review shows or some easy-going sitcoms.
You can find something for every level, too! Checking out different genres will allow you to see lots of different aspects of German culture, which is essential if you truly want to learn to speak German.
5. Zeit Online: Best for Learning with the News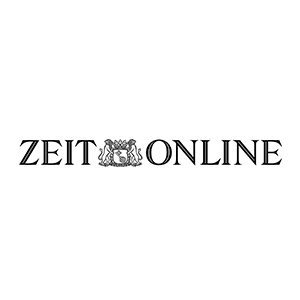 Price: Free with ads ($ premium version with subscription)
If you've been studying German for a while and feel you're ready to move up a level, online German newspaper sites could be key.
As newspapers are often written in a plain and clear language, they can usually be fairly easy for upper intermediate learners to understand, while still using fairly high-level sentence and grammar structures.
Bear in mind, though, that if you're reading an article that's heavy on politics, you might come face-to-face with some lengthy and complicated vocabulary.
Zeit Online is a great mix of politics, culture, lifestyle and current affairs, so you'll be able to avoid the more challenging topics (if you want).
6. Linguee: Best Online Dictionary 
Price: Free
Linguee is a great online dictionary for all levels but has one special feature that sets it apart.
When it translates words, it shows you the translations in different contexts—you'll see your word or phrase being used in a few different paragraphs just to show the full range of uses it might have.
And these paragraphs have all been taken from current content around the web, so you can be sure that these examples are flawless and relevant to modern speakers!
7. BBC German: Best for Learning Resources 
Price: Free
The BBC language pages are definitely worth checking out for language learners of any levels. They offer lessons in many different languages including Arabic, Chinese and Catalan.
German is one of their most popular languages and there's an invaluable amount of help, resources and lessons for those wishing to learn.
Everything's split up into topics so you can dip in and out depending on what exactly you want to learn. There's also a lot about the German culture and tips on what you might need to know while visiting the country.
Since it's from the BBC, you can expect polished, top-quality resources that hold to their reputation for professionalism.
8. Duolingo: Best for Everyday Practice
Price: Free with ads ($ premium version with subscription)
Duolingo is terrific for learning grammar and writing and it's one of the more popular options to learn German for free, especially for beginners.
Through constant and varied forms of repetition, this great website and app helps it all stick in your brain.
If you're more of a beginner, it slowly begins to show you how exactly to go about constructing sentences. You'll even get to listen to audio recordings of dialogue in Duolingo's "Stories" feature and try your hand at pronouncing words if you like.
For more info, check out our full review of Duolingo.
9. GermanPod101: Best for Multimedia Lessons
Price: Free for limited access ($-$$$ for different subscription levels)
GermanPod101 specializes in teaching German with short audio and video clips. The aim of the lessons is to increase your comprehension so you can understand any German you hear.
GermanPod101 lets you start at any skill level, and each level has its own library of lessons for specific purposes such as "Conversational Phrases" or "Ordering at a Restaurant."
Each lesson starts with a German audio or video clip and features a transcript in German and an English translation. The lessons also include a vocabulary list, grammar notes and, for premium users, practice tests/assignments.
To learn more, check out our full review of GermanPod101.
Price: Free
If you're the kind of person who thrives off of verb tables and hardcore grammar study, the Foreign Services Institute is the best way to learn German for you!
The FSI courses are quite old-school in their structure and the ones you find online are for beginners. These lessons are wholly dedicated to the pursuit of grammatical perfection by using to-the-point texts and audio clips of natives speaking.
All the resources here have been developed by professional linguists. In fact, the lessons were used in the past to train diplomats and other US officials in foreign languages in preparation for their work abroad.
So you can be sure that these are high quality lessons—even if a little dated. But it's worth a try, considering it's all completely free.
Price: Free (with paid courses available) 
The Goethe-Institut has many resources for immersive learning online, including a German-language TikTok and Instagram so you can turn your social media scrolling into language practice. 
If you're planning to move to Germany or just have an interest in what it's like to live, check out their blog. It provides information about living and working in Germany (in German levels A1 to B2), complete with texts, videos and maps.
You can browse their digital library, which includes more than 20,000 German-language media such as e-books, audio books, music, newspapers, magazines and films, all free of charge. They also have German-language podcasts from all over the world.
The institute's online community is a great way to connect with other German learners and practice together. 
12. Twitter: Best for Learning Web Slang
Price: Free
As with Netflix, you've probably already got a Twitter account. It's great practice for various levels, especially for those with a higher level. 
Not only is this social media platform fantastic for your reading, but it also gives you the chance to get interactive and converse with native speakers.
This is highly valuable for learning casual speech, internet lingo and general slang. You can also pick up a lot of German related to current events, pop culture or whatever topics you choose!
Not sure what accounts you should be following? For some ideas, see our list of German Twitter accounts to follow.
13. YouTube: Best for Content Variety
Price: Free with ads
If you'd rather watch short videos instead of entire programs on Netflix, head on over to YouTube. There's content for all levels!
You can check out the hottest music videos in Germany right now or try out clips of TV shows so you have a bit more of an idea about what you might like to watch.
You can also head straight to the Popular on YouTube – Germany channel to get immersed in the latest authentic clips that native German speakers are watching.
The great thing about YouTube is that there are also many channels aimed at language learners, and you don't have to be that advanced to understand them. In fact, there are quite a few dedicated to beginners.
Price: Free for limited access ($$ for monthly subscription)
If you want to know what's going on in the world but aren't ready to jump into a regular news site in German, this resource is for you.
The News in Slow German podcasts offers short episodes of five to ten minutes, each centered on a specific topic. The native speakers enunciate well and speak in a manner that allows you to hear and comprehend what's being said without feeling rushed.
They have an option for beginners and for intermediate learners, as well as a section on grammar and expressions with dialogues, audio and quizzes to test your learning. 
Tuning in to these podcasts can be a great way to train your ear and get your mind focused on speaking German clearly and accurately. 
If you prefer to read your news, they also have written articles with intermediate and advanced options. Hover your mouse over carefully selected words to translate them and learn while reading.
15. Das Bild: Best for Sports Lovers
Das Bild's sports pages are fantastic for those wanting to catch up with the latest Bundesliga soccer matches. You may need a high level of German to understand everything, but the final score is universal. 
This immersive resource is probably best suited to German learners of at least an upper intermediate level. However, it can be great practice for anyone wanting to learn sports-related vocabulary and identify gaps in their reading and listening comprehension. 
With videos and written articles, you'll get a mix of content that will keep you entertained (as long as you're a sports fan). If you're going to be checking the scores and game summaries anyways, incorporate it into your weekly German practice with this online resource. 
Why Learn German with Online Immersion?
German immersion online can be a great supplement to all the learning you've been doing in the classroom—or you can use it all on its own to teach yourself German.
What makes this better than learning from your teacher and classmates?
You can tailor it to your own needs. For example, if you're having problems with word order, you can focus entirely on this for hours or days.
You learn to speak German on your own terms. Just because you're learning about the subjunctive in class doesn't mean you're restricted to studying this at home—if you've already mastered it, then just go wild and practice noun genders on your own. 
The range of options for studying on the internet is vast, and German immersion is no exception. You can practice all your skills online—so that's reading, writing, listening and speaking.
The door is open to interaction with native speakers. You can converse with them on social media or see what they've been writing on the current affairs blogs.
Are you raring to go and log on to the best websites to learn German? I hope so!
Even if you just do a quick 20 minutes per day on one of these sites, you'll be sure to eventually see an improvement in your Deutsch (the German language).
That's just how powerful German immersion online can be!
Download: This blog post is available as a convenient and portable PDF that you can take anywhere. Click here to get a copy. (Download)
If you liked this post, something tells me that you'll love FluentU, the best way to learn German with real-world videos.